Switch List
Articles
What VMR is
Mideast UK
A Modeler's Paradise
More...
E-Books Coming Soon!
Sandy River
Shoestring Business
Penny Wise Almanac
Gallery Coming Soon!
Sandy River
Old Woman
More Information?
Train Simulation Craftsman
Virtual Railroader
Train-Sim.com
Trainz
---
Donate $1 to help us stay online...

---
Our Predecessor...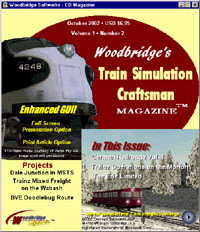 ---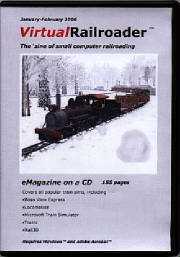 Only $6.00
Includes S&H
Virtual Railroading
Welcome to the fascinating virtual world of railroading. We specialize in providing the model railroader and virtual railroader with ebooks and route building kits that are designed to bring your model railroading or virtual railroading experience to the next level of realism.
Transport Giant: Getting Acquainted
By Alfred Barten
Syndicated - http://vscaler.com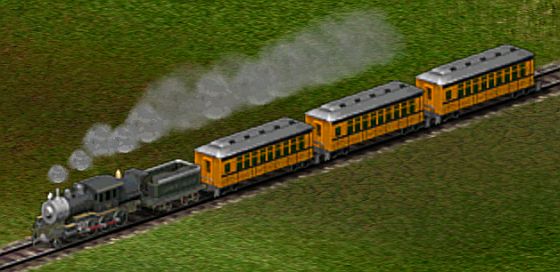 A 4-6-0 Camelback steamer heads my first passenger train, c.1901.
The first thing about Transport Giant that caught my attention was the graphics. For a strategy-type game along the lines of Railroad Tycoon, Transport Tycoon, and Locomotion, these graphics are superb. Whatís also nice is that you can zoom in closer than you can with other games. What you canít do Ė and itís unfortunate Ė is follow a train in the main window or in a separate window. To follow, you have to use the cursor keys. If you have a busy terminal, however, you could find the stationery view just fine. Another thing I really like is the ability to build trains with up to 64 wagons. This is extremely long for a strategy sim. [Full Article]
Getting More Out of your Model Railroading Magazine
By Brian Eckard
Each month I wait with anticipation for the next issue of my favorite model railroading magazine. I enjoy seeing whatís new for the hobby, and I especially enjoy looking at other modelerís layouts and track plans. They provide such great ideas that I can incorporate into my layout designs.
After becoming involved with train simulators, I discovered another new activity that I can do with my magazine. I can recreate the layout track plans in my Trainz Railroad simulator and experience first hand the train operations typically described in the article. What a great slant for the arm chair model railroader! In this article, we will explore how you can recreate a layout design from a magazine, and transform it into a virtual world. [Full Article]
Trainmaster Progress
Work continues on the new Trainmaster train simulator. You can find out the latest information at the Trainmaster News page.