A book review
Topic: Conductor
This is V-Scale
by Brian Eckard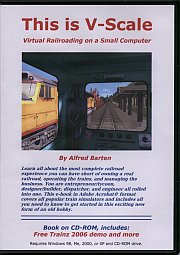 If you are a beginner to the world of virtual railroading, then I have an ebook for you! Author and publisher, Alfred Barten, has created a wonderfully informative ebook that will help the novice user to get started in this exciting new slant on the model railroading hobby.
The ebook features twenty-nine chapters, 210 pages, 188 illustrations plus free Trainz 2006 demo and more. It is divided into five parts: First Things First, A Closer Look at the Favorites, Operations, Easy Projects, and Resources. The book covers all the different types of simulations such as, dispatching, empire building, railway/transport modeling, cab-view driving, full 3D and model railroad. The book discusses all types of railroads including, Class 1, light rail, interurban, rapid transit and narrow gauge. And, Mr. Barten reviews BVE, Microsoft Train Simulator, Trainz, Locomotion and Transport Giant. He includes links to over 70 simulators and many more resources.
The ebook is published on CD and includes a free Trainz demo plus other extras and add-ons. The Adobe PDF reader is required to view the book, and Windows 98 or higher is required to run the Trainz demo. The package retails for $12.95 and includes shipping and handling.
Initial thoughts
Al has managed to pack a lot of useful and interesting information into this fabulous ebook! It starts out with a brief overview of what's in store for you as you continue to read on. The book starts ini Part One explaining how to get started in V-Scale railroading. He explains in detail what V-Scale is and what is involved in getting started. There is a brief explanation of what is needed for hardware, and where to go for additional help.

In Part Two, the book takes an in depth look at the commercial train simulators that are available, It starts out by looking at the freeware BVE simulator. Then, it explores Microsoft's Train Simulator, Auran's Trainz, Locomotion, and Transport Giant. Next, he explores the empire building strategy games that are available. For each simulator, the book provides details such as its directory structure (for BVE), and basic keys used to drive the trains. For Microsoft's product, the book explains how to install add-ons, and where to go for resources on the Internet. For Auran's Trainz the book provides information on must have resources that will enhance using this fabulous simulator. .

Part Three moves into Operations. This subject, by far, is where I have the most fun. I simply enjoy the challenge of driving a train, or shunting cars around industries or a yard. In this section of the ebook, an in depth look at operations is made, and I believe it provides an accurate picture of what you can experience in virtual railroading. .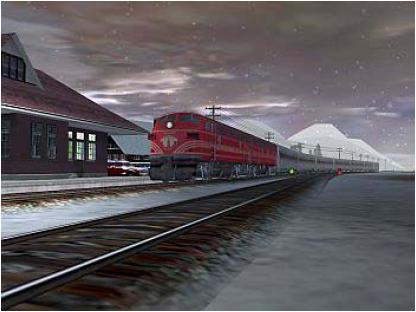 This chapter begins with an imaginary ski trip on the Boston and Maine Railroad. Our trip begins in Boston and heads up into the snowy mountains of New Hamphire. We're headed to Sugarloaf, NH home of the Sugarloaf Inn. This route is actually John D'Angelo's Boston to Portland Trainz route that is available for free download from Auran's Trainz Download Station to registered Trainz users.
In this section you'll find stories of rail operating fun for the BVE simulator, Trainz, and the Microsoft Train Simulator (MSTS). In this section Al shares his Timesaver articles, which were among my favorites, when we first published them in Woodbridge's Train Simulation Craftsman magazine back in 2002 / 2003.
Other topics include how to create and use waybills to simulate more realistic freight operations on your virtual railroad, building an interurban empire in Locomotion, and a look at traction and subways in the virtual world.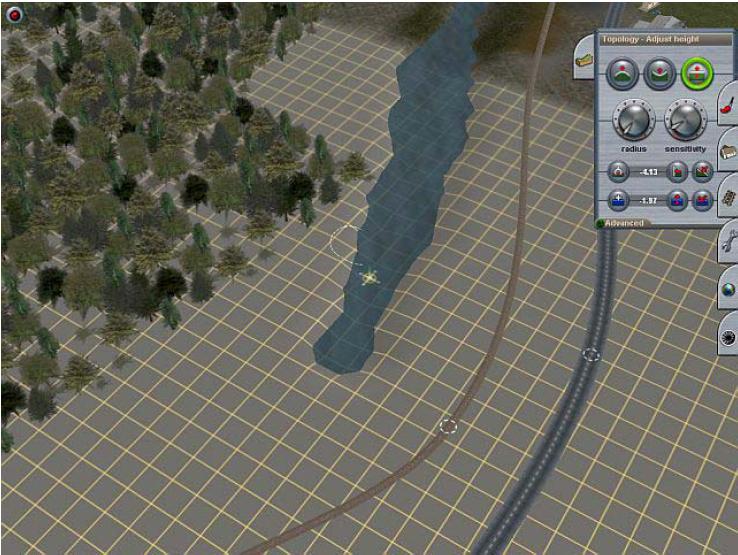 Easy Projects is the subject of part four. Here you will find articles that tell you how to build a switch list generator using Excel. How to paint and create scenery in Trainz, and it even shares how to make a movie once you've created your dream layout in your favorite train simulator.

Lastly, in Part Five: Resources, the ebook provides you with crib notes for all of the popular train simulators. Print these out and keep them next to your PC for your next train operating session! He provides a discussion of system requirements so that you can know what you need for your system so that you can enjoy your virtual railroading experience. And, finally Al includes a comprehensive listing of web sites that support virtual railroading. It is here that you will find Al's Train Simulation Web Finder. This listing divides the web sites into categories that make it fast and easy for you to locate web sites that cater to your favorite simulation, or V-Scale interest.
My Conclusions


I have spent a substantial amount of time reading this book and exploring the freebies that come with it. In my opinion, it is a well written book that will help any newcomer to this fascinating hobby to get started. It also will help the experienced and time seasoned virtual railroader to get more out of V-Scale, and it may even lead them to explore other avenues like strategy and empire building. For the model railroader, it might just open their eyes to the similarities our respective hobbies share and lead them to find a way to combine model railroading and virtual railroading together. In the future I can see a time where these two hobbies do combine and layouts will be designed that will use the simulator to handle the "time in between" the stations or selected scenes on the layout.

My advice to you is to purchase this book. This is a good investment that will provide you with hours of enjoyment, and will result in more meaningful operating sessions in your favorite train simulator.
--Brian
Posted by woodbrdge at 10:36 PM PST
Updated: Wednesday, 27 February 2008 7:39 PM PST