Opinion
Topic: Conductor
Who needs a video? We have the REAL thing!
By Brian Eckard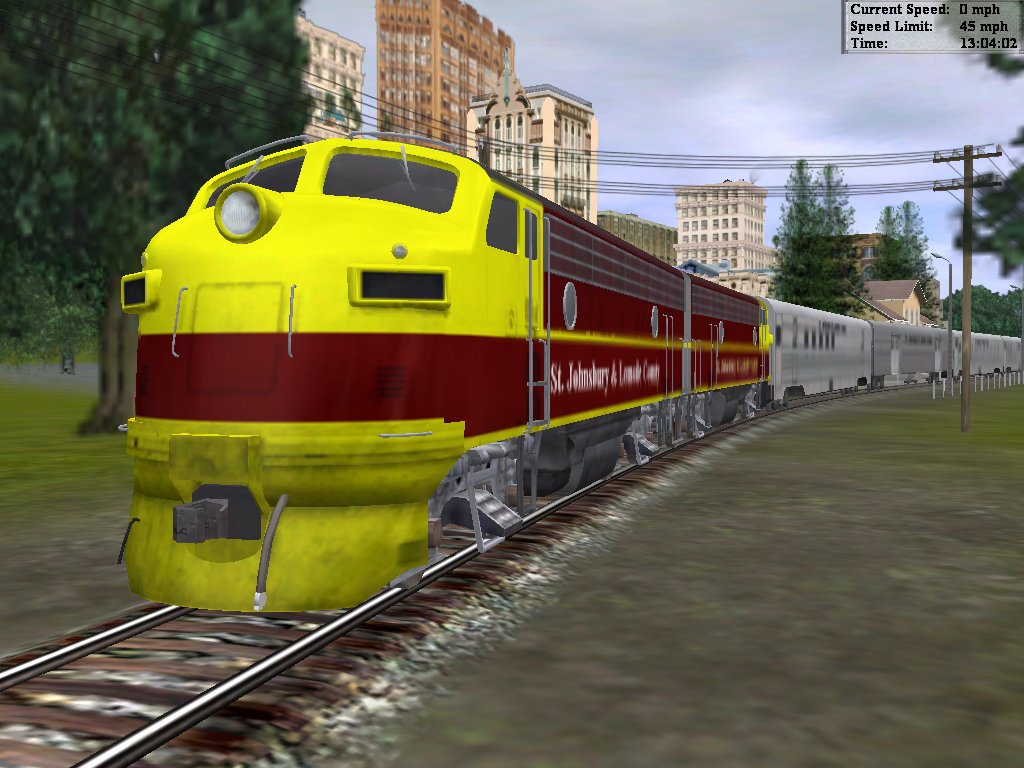 What is virtual railroading? Is it a game? Or, is it a hobby? Is it simply another avenue to model railroads with? Why are people either firmly for it? Or, vehemently opposed to it? Our title for this article is actually a qoute from a father to his son at a train show. It accurately reflects the attitude of the old school of model railroading, and the conflict with the younger generation who has been raised with a gaming attitude. How does virtual railroading get past this apparent mountain that blocks its acceptance into the mainstream of the model railroading hobby?
At the core of the issue is a very sensitive area for most model railroaders. On the outside, non-model railroaders simply don't understand why it would be fun to model trains, let alone watch them navigate around a loop of track, or across a layout or table top. To the outsider model railroading is an excuse for old men to play with toy trains. And, that offends most modelers. Train simulation has come out of the flight simulation genre, and it is considered a game by most software developers. What is a game? It is another type of "toy" that both kids and adults alike can play.
So, the very thing that model railroaders have fought so strongly for--the recognition of their hobby as a legitmate method for simulating the operations of a railroad, is now being used by that group to point fingers at a threatening new version of this old hobby and call it a "toy!" That is simply absurd. Why? Because virtual railroading is just another valid method for simulating the operations of a railroad. And, in my opinion, it is better because in virtual railroading you can simulate the operations of an entire railroad recreated in the actual distances of the original--even using terrain data to recreate the actual environment that the real thing operates in. Try doing that in your basement!
Let's compare the two genres - The physical model and the virtual model
Besides sharing the same goal of realistically simulating the operations of a railroad, model railroading shares many common activities with virtual railroading. Let's look a few.
Creativity
Creating layouts, regardless of whether it is constructing a framework that will hold a model layout, or designing and building a virtual 3D world on a PC entails creativity by the modeler. Both model railroading and virtual railroading share in this creative aspect of the hobby. The artistry required to make scenery look realistic is also required in the virtual world, and is found in creating textures, and mixing the textures to make realistic looking terrain. Both modeling genres require models that represent the real thing, and it simply doesn't matter whether the model is physical or virtual--both require an immense amount of creativity in order to make it a reality. So to brush off virtual railroading as not "the real thing" is simply not fair. Virtual railroading is probably closer to the real thing since you have a choice of watching the models navigate through a scene, or jumping inside and actually driving the model through the scene.
Scale modeling
Many painstaking hours are spent by modelers to make their creations as realistic as possible. There is nothing more satisfying then to admire the craftsmanship invested in a structure, or in a piece of rolling stock, or in a locomotive. Ironically, the same amount of skill is required in both model railroading and virtual railroading. Both genres work in scale in order for the models to look believable. Both require time to create something worthwhile. What difference does it make if I create my model on a workbench, or create it on a PC? Both require the same amount of effort.
Train operations
When push comes to shove, the main reason people model trains, regardless of whether it is a model or virtual model, the end result is the same. What is that end result? To simulate the operations of a railroad as realistically as possible. When I run trains in my simulator I get the same exhileration that I did as a boy running trains on my layout. And, with the computer helping in the operations, I can run a real schedule and deal with real traffic situations.
Those things can also be done on a model railroad. You can even have your PC help you run trains on the layout, or you can join a club so that there are other people involved in operating the railroad. Both genres require the same skills in running the trains, such as slow starts, allowing the proper distance to stop the train, trying to stop at a station with the cars lined up correctly with the platform, and it goes on and on.
So what is virtual railroading?
So what's the problem with the old school of model railroading? Maybe it is due to the fact that there is a lot of money invested in those models, and for the most part, the virtual models are distributed across the Internet for free. I can understand that argument in regards to the mainstream magazines since their very livelihood is based on attracting paying advertisers who are at stake trying to sell their model products. It seems unfair that the virtual railroader gets his models for free.
So, what is virtual railroading? I believe that it is simply another avenue to model trains with. It is the "scale" that I choose to model in so that I can have the type of layout I truly enjoy operating on--that is a point to point line that is set in the actual terrain of the area the real thing operates in. It is fun to run trains on a recreation of a real railroad and to imagine what it must have been like 60 years ago when railroading was in its hey day of diesel and steam. Isn't that the same dream most modelers have when they run their model layouts? --Brian

Posted by woodbrdge at 2:01 PM PDT
Updated: Wednesday, 27 February 2008 7:44 PM PST