Virtual Railroading is more than train simming
Topic: Virtual Railroad
Agatha Christie's Murder on the Orient Express
By Brian Eckard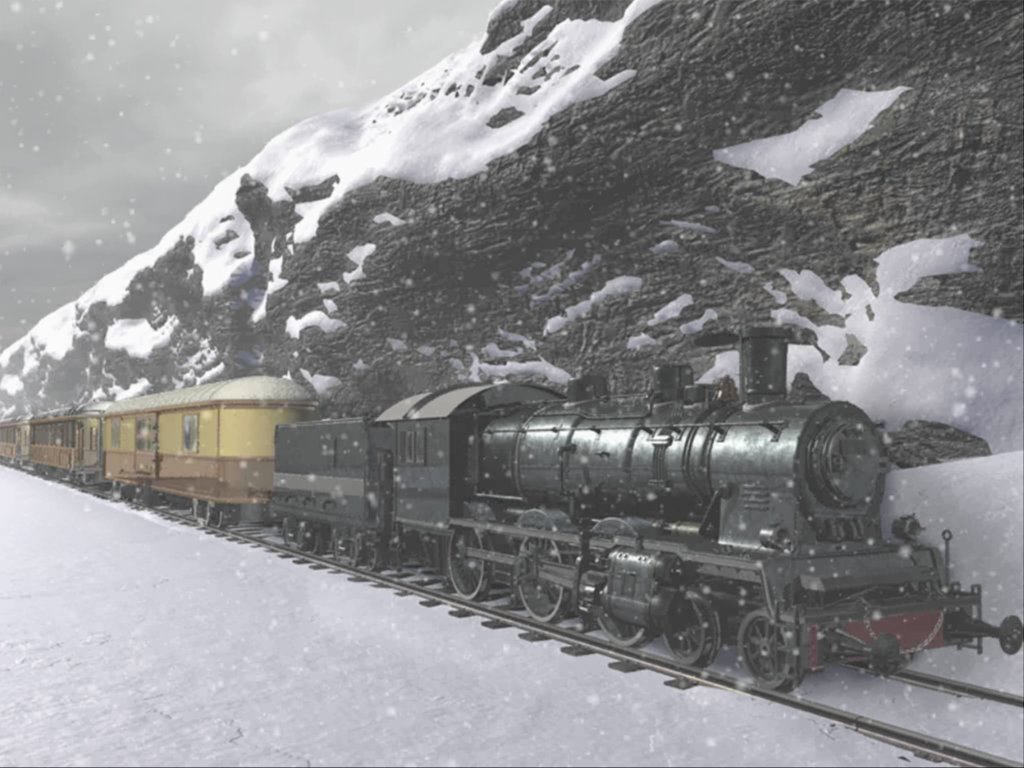 Virtual railroading comes in many forms and types of simulations. They range from driving simulations to full-blown 3-dimensional worlds that you can create and explore by rail. There are strategy games, and empire building games that are based on a railroading theme. And, there are also adventure games that entail a story that takes place on a train. I would like to explore this last new genre in the virtual railroading arena.
In my opinion, there is nothing more pleasurable than sitting down with a good book in front of a fire on a cold rainy afternoon. Recently, while out on a shopping spree, I picked up a 21st century version of "a good book" in the form of software. Actually, it is a game, an interactive game where you can immerse yourself into the story. The story of the game? Why it's Agatha Christie's "Murder on the Orient Express." An impelling story that is brought to life in this 3 dimensional game released by AWE games and the Adventure Company.
I have always been a fan of mystery stories, and the idea of interactive adventure games developed for the PC. I can remember the first generations of these games when they were text based with no graphics. It was like reading a book, except that the book was interacting with you and responding to your inputs. The story was different each time you played, though the ending might be the same each time, it was the journey to the end that was different each time you "opened" this unique electronic book.
A few years ago I bought my first version of "Murder on the Orient Express." It was released by a different company and was quite good. It would keep you very busy for hours on end. This new version has just been released in November 2006. It has faithfully followed the original storyline, but does have some new twists in it so that it works well in the digital game environment. The main story line is still very much there though. In this version of Agatha Christie's classic train mystery a new character is introduced. It is a woman who helps the famous detective Peroit solve the crime. In the game, you take on the role of this character, and control her actions as she attempts to solve the murder.
Packaging and Installation
The game comes professionally packaged, and currently it also includes the complete book of Agatha Christie's, "Murder on the Orient Express." Inside the box you will find two CDs well marked as to which is disk one, and disk two. To install, simply insert disk one into your CD-ROM drive and if you have Auto-run turned on in Windows it will automatically start up and display a menu. On the Installation menu you have two choices, or you can cancel. The choices include installing the game, and installing Direct X 9c. To play this game you will need Direct X 9c or higher plus the most recent drivers for your video card.
To install, click on the first menu option. It runs a fairly standard Window's installation program. While the game is being installed on your system you can sit back and enjoy the various screen shots that are displayed (from the game). I experienced no problems installing the game and after installation was finished the program started up without any problems.
Like most graphics intensive games you may need to stop any background processes that take up memory space. These processes could affect the quality of the frame rates you will encounter n the game.
Artwork and game play
The artwork of this game is simply superb! The attention to detail, the drawings of the trains and buildings are excellent. The characters are animated and reflect current technology in their ability to move and talk. However, the people still have that Sims quality where they appear robotic more than human. When compared to earlier adventure games where this type of animation was used, this game is quite an improvement in the animation technique. The music, sound effects, and the dialog all add to making the scenes more realistic and assisting the game player with becoming immersed into the story and the game.
The game starts out with some background information provided via a movie. It quickly moves into the starting point for the game in Istanbul. You are out in the street and must attempt to meet up with Mr. Peroit and board the train. That is far as I will go with my description, simply because I don't want to ruin the game for you. Once you get into the game the interface is fairly straight forward and similar to most adventure games. You have the ability to pick up and keep objects, walk around the scenes, and talk to the other characters in the story. All of this game play is accomplished using your mouse. You really don't need the keyboard except for the first time saving the game. This save game feature also allows you to leave the game and start up where you last left off.
Conclusions
Virtual railroading can be experienced in a variety of genres. The adventure game allows you to become an active part of the story. When you mix this genre with railroading you have a perfect blend that will not only keep you on the edge of your seat, but give you an excuse to go climb around a train. The modeled on Murder on the Orient Express is luxurious, and represents an era in railroading that simply no longer exists. I don't know about you, but I enjoy exploring and walking around trains just as much as driving them or creating a layout. Playing this game gives a new perspective on our hobby, and keeps things interesting and stimulating. You really have to think when you play this game, and if you're like me, you will be shocked at how fast time passes. It is really easy to become immersed in this program.
If you like adventure and mystery, and you like solving crimes, then this is a game worth considering purchasing. It sells for $30 at Target, and in my opinion is well worth the investment. I like trains, and this is another unique way of enjoying my hobby in a new and different way. I highly recommend this new game! --Brian
Powered by Qumana
Posted by woodbrdge at 2:56 PM PST
Updated: Wednesday, 27 February 2008 7:41 PM PST